Golden Harvest Names Seed Advisor
of the Year
The seed company honors an independent Seed Advisor in Minot, North Dakota, for his
knowledge and dedicated customer service.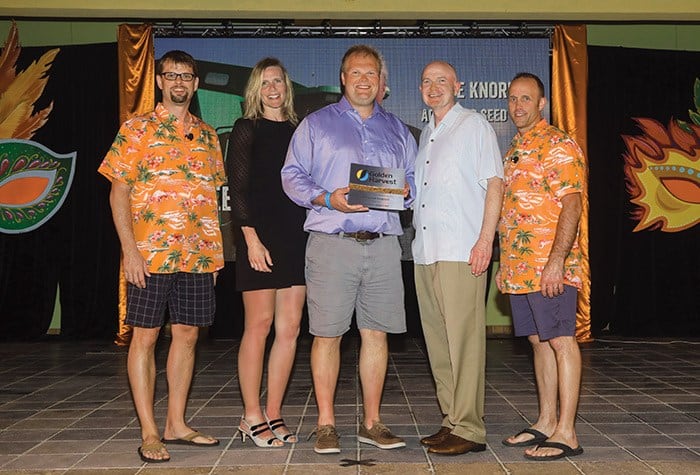 Steve Knorr of Advanced Seed is the 2018
Golden Harvest®
National Seed Advisor of the Year. A local, independent Golden Harvest Seed Advisor in Minot, North Dakota, Knorr offers in-depth market and agronomy insights and dedicated customer service to farmers.
Read about Steve Knorr, the #GldnHarvest Seed Advisor of the Year.
click to tweet

"Steve's ability to connect with customers is second to none," says Drew Showalter, Golden Harvest district manager. "Advanced Seed knows the markets inside and out and has done more for upper North Dakota farmers in two years than I ever could have imagined. Steve is a big dreamer, but he's also a big doer, who hosts on-site customer events to demonstrate local seed, crop-protection and field-management trials."
Knorr received the honor at the 2019 Golden Harvest Seed Advisor Rewards Trip award ceremony, which took place in St. Kitts and celebrated the top-performing Seed Advisors from across the country. Out of the 13 district winners eligible for the national award, Golden Harvest selected Knorr as its top Seed Advisor based on excellence in business performance, dealership growth and customer support.
"Steve is a big dreamer, but he's also a big doer, who hosts on-site customer events to demonstrate local seed, crop-protection and field-management trials."
"The Golden Harvest value I bring to customers is what matters most to me," Knorr says. "I truly believe in the integrity of this company. The folks behind the scenes aren't here just to sell a bag of seed to farmers; they are here to bring us true value. After one year of trying Golden Harvest
corn
and
soybeans
, my customers are coming back and saying, 'Wow, we're happy with the products. We want to increase our order for 2019.'"