1/1/2019 to 9/1/2019
Help Syngenta Choose the 2019 #RootedinAg Contest Winner
Cast your vote by Aug. 30 to give your favorite finalist a better chance of honoring his or her ag mentor, while giving yourself a chance to win $50.
9/1/2019 to 1/1/2025
Voting for the 2019 #RootedinAg Contest Is Over
9/1/2019 to 1/1/2025
Thank you for visiting Thrive. Voting for the 2019 #RootedinAg Contest has ended. To find out which one of our three finalists below is this year's grand prizewinner, go to the Thrive news section later this fall.
1/1/2019 to 9/1/2019
Thanks to everyone who entered the 2019 #RootedinAg contest. Our panel of judges has selected the top three entries. Now we need your help to determine who will be the grand prizewinner of $500 plus a $1,000 donation to a favorite local charity or civic group.*
Check out the entries and vote for the one you think is most deserving. All voters who give us their email addresses in the form provided will be eligible to participate in a drawing for a $50 gift card. Online voting ends Aug. 30, 2019, with
Syngenta
announcing the grand prizewinner this fall.
*NO PURCHASE NECESSARY. See Official Rules for more details.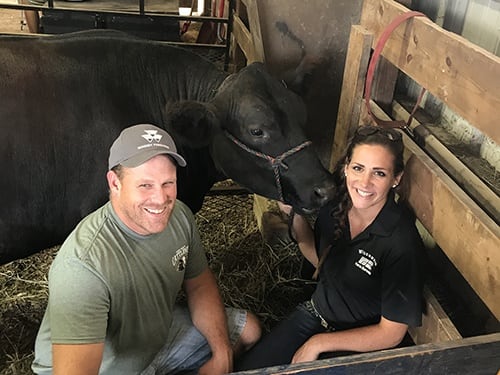 Tammy Wiedenbeck From Lancaster, Wisconsin
Farmer/Co-Manager of Riverview Farms
Field Rep/ Social Media Coordinator at Equity Cooperative Livestock Sales Association
Growing up, my roots in agriculture had only just sprouted. I struggled when my friends would want to hang out together and I had to stay home if my parents had work on the farm. Although I loved the animals and exploring the land, those feelings at one point were of jealousy and admiration for other lifestyles. But having a brother almost 11 years older who said at the age of four that he wanted to be a farmer, those feelings didn't last long.
Read more about Tammy...
---
Kathleen Sylvia Kelley Amaral From Griffin, Georgia
Graduate Research Assistant
University of Georgia
As the sun rose, I could hear her get up, tie her apron and put on her shoes to get ready for the day. She would work in the backyard garden daily, bringing vegetables and fruits to the kitchen where she would spend the remainder of the day canning, salting, pickling or cooking them. She encouraged me to work hands-on with the land. An Azorean immigrant, who didn't obtain an education or know English, taught me my first important lessons in agriculture.
Read more about Kathleen...
---
Krista Swanson From Oneida, Illinois
Farmer
Research Specialist in Agriculture Policy
University of Illinois
I frequently recognize growing up on a family farm as the first seed in my ever-growing passion for agriculture. And while that was the first seed, it wasn't until my high school FFA experience that the seed began to sprout. Throughout my high school and college years, I was fortunate to have several wise mentors who assisted me in personal development, influencing and guiding my future in agriculture. But I believe one particular mentor set my life on an agricultural trajectory that I may not be on otherwise.
Read more about Krista...
---
1/1/2019 to 9/1/2019
Vote for Your Favorite #RootedinAg Finalist!
1/1/2019 to 9/1/2019
We will use your information only in accordance with our privacy policy.