Ask the Experts: Farmers Who Serve
Find out why experts say it's important to take time away from your business to serve in a checkoff or commodity organization.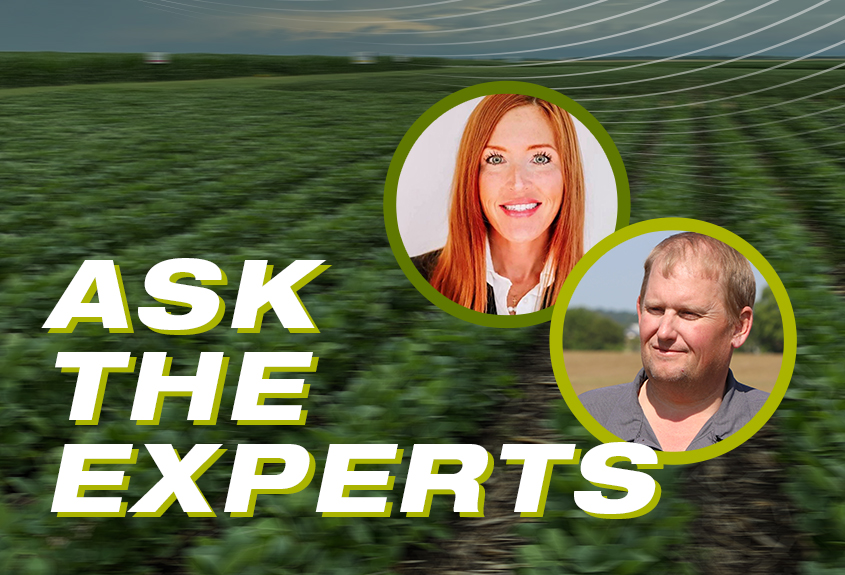 Industry, farmers and associations can help educate the public.
If members of the ag community don't speak for themselves, someone else will speak for them.
Training in media preparation, ag policy, leadership and current affairs is available to those interested.
Q. What are the benefits of your service to the ag industry?
A. Ryan Bivens, First-generation Farmer and Owner of Fresh Start Farms; Director of the Kentucky Soybean Board and member of the United Soybean Board: I don't care what you produce, raise or what line of work you're in – you need to be involved with some kind of advocacy group that helps to grow your industry. You can't do this on your own. Being a part of the United Soybean Board is not something I take lightly; we have a fiscal responsibility and are representing other people's dollars. We all should be doing things to promote our industry and, through research, to improve our industry. Everybody has a responsibility in life to stand up and speak, do more to educate, and better whatever industry they're involved in.
B. Macie O'Shaughnessy, Industry Relations Manager at Syngenta and member of the Cotton Foundation Board and the USA Rice Foundation Board: In industry relations, we engage and collaborate closely with farmers and trade and industry associations. This gives us the opportunity to manage and mitigate risks collaboratively with more voices. Some of the things we work on include educating and lobbying against unscientific regulations, understanding watch-outs and opportunities in the marketplace, such as biofuels, sustainable aviation fuels, biologicals, carbon markets. In industry relations and government relations, our team gets to work in a pre-competitive space – which means that we work collaboratively with farmers and other companies in the industry to address the greater good of ag.
Q. How does your service affect you on a personal level?
A. Bivens: If we backed up 30 years, people in a position like mine would have made connections with friends that they saw maybe two or three times a year. Nowadays, with technology, we can reach one another with a text or a phone call. The definition of a neighbor is much broader than it was decades ago. If you work a lifetime to build a reputation, you know that you can lose that reputation in seconds. Knowing you're a role model and that other people in the industry look to you makes you strive to do better.
B. O'Shaughnessy: It has reinforced the importance and value of staying engaged in our political process. I'm constantly fascinated and proud of the scientific advancements that our industry offers growers. Seeing the power that science can bring to the farm and then to the table – as well as the work, risk and dedication that farmers put into producing food, feed, fiber and fuel for our communities – it all affects and inspires me on a personal level. I work to advocate and tell the story in my kids' school, in my community and on the Hill.
Q. How did you become involved?
A. Bivens: Being involved comes naturally to me. Growing up, I was involved in 4H and FFA. Those experiences taught me to get involved and stay involved. Along the way, my neighbors encouraged my involvement with the Kentucky Soybean Association. After serving there, I got to know people on the United Soybean Board and was encouraged to run for the seat.
B. O'Shaughnessy: I landed in the industry through a finance position by pure luck. I've been able to learn and grow my experiences and career through the support and encouragement of many mentors.
Q. Why should others, especially the next generation, consider serving in these types of roles?
A. Bivens: I've got two boys; one is 15 and the other is 12. I tell them every day that one of the biggest problems in ag is we haven't told our story to the public. We haven't explained why we do the things we do. I think it's biting us in the tail. People need to get involved and tell their stories because if they don't, then others will – and their version may not be accurate. You must get involved because if things aren't going our way, it's our job to look out for our industry.
B. O'Shaughnessy: The health of our future depends on it. We need our communities and government to understand the commitment and care our farmers put into their work, and the rigorous safety and efficacy testing the industry does before bringing a new product to market. For American farmers to continue the important work they do in a sustainable way, we need strong voices in agriculture to advocate for the freedom to operate and access to technology.
Being involved comes naturally to me. Growing up, I was involved in 4H and FFA. Those experiences taught me to get involved and stay involved. Along the way, my neighbors encouraged my involvement with the Kentucky Soybean Association.



Q. What is your advice to others considering service?
A. Bivens: I think in this country that we all have a responsibility to give back. Some might give back by being involved in groups and others may give financially. At the end of the day, giving back makes a society work. I chose to provide my service to this industry that I love. I think that those of us in ag bring a different perspective to the table. If you don't give to an ag group, then participate in a church, civic or community group. Ag has such a huge impact on the everyday life of the worldwide community. If we're not there to give our voice, our service and ourselves, we'll get left behind.
B. O'Shaughnessy: Be open-minded. Be the bridge into the parts of society that haven't had the opportunity to understand the culture of sustainability in agriculture, and truly understand the effective technology that enables growers access to tools that work on their individual operations. Tell your story with pride. Agriculture and food security should be a bipartisan, human topic. Be patient, listen, connect, and meet people where they are. Also, don't be shy! Farmers are natural teachers; they build relationships and mentorships. Collaborate and learn as much as you can and share it! Pay it forward. I get just as much out of being a mentor as a mentee.
Q. What are you most proud of during your tenure?
A. Bivens: I've been very blessed, won numerous awards and been recognized by numerous groups – but I tell everyone that I'm no different than everybody else. But the thing I'm most proud of is my sons, Cyrus and Avery. I taught them the love of ag and love for organizations that represent ag. They have now made the decision to be the next generation and come back to our farm and do their part.
B. O'Shaughnessy: The thing that brings me the most pride is seeing others that I've mentored lead with their voice and make a difference. Each win matters! There is nothing better than seeing someone who is passionate about agriculture own their message and succeed in their vision. I've been fortunate with many opportunities to collaborate and it's hard to put one on top of another. Currently, I am most proud of the Syngenta initiative, Leadership At Its Best program (LAIB). The Syngenta industry relations team provides a week-long curriculum of education and valuable relationship building across grower and trade organizations. We deep-dive agriculture policy, current affairs, communications, media training and various aspects of leadership training relative to priority issues facing agriculture. Our goal is empowering today's leaders for future challenges and opportunities.
Do you want to give back to the ag industry? Hear from two experts who serve on commodity or checkoff organizations and learn why they are calling others to do the same. #FarmersWhoServe
click to tweet

READ NEXT
Farmers Who Serve (Video)
A grower shares how the ag community can educate the public through serving in a checkoff or commodity organization.