Vern Hawkins: Syngenta Leader With Strong Roots in Ag
Lessons he learned as a young farmhand have helped propel a remarkable career.
When Vern Hawkins was a young boy, he rarely ventured beyond his rural Indiana community. Little did he know then that one day he would lead the world's largest developer and manufacturer of crop protection products. But even today, when he travels around the globe as president of
Syngenta Crop Protection, LLC
, his agricultural past remains an important touchstone.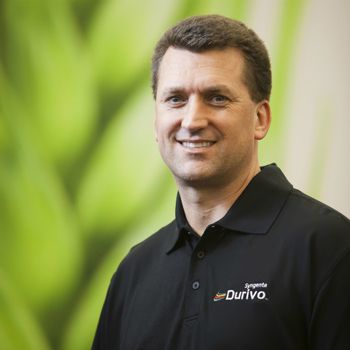 "Like most of my friends, I chose to get involved in 4-H and FFA when I was young," says Hawkins. "Working as a farmhand for neighboring farmers and participating in those organizations gave me a deep-rooted passion for agriculture that has stayed with me throughout my life."
History With Syngenta
Hawkins began his career at
Syngenta
more than 30 years ago, while he was still a student at Purdue University. Before earning a degree in agronomy, he was a sales intern for two summers with Syngenta predecessor ICI Americas (ICI). After graduation, he joined ICI full time to manage a sales territory in west-central Illinois. He then transitioned into a business-analyst role, while pursuing an executive MBA at Temple University. After earning his MBA degree, he took on a global fungicide and insecticide product management role with Zeneca Agrochemicals, based in the United Kingdom (U.K.). He later returned to the U.S. to manage the North America fungicide business and the introduction of azoxystrobin, which is now used on more than 130 crops grown in more than 100 different countries. He then went back to the U.K. to lead the global business for pyrethroid insecticides.
In 2000, when Novartis and AstraZeneca merged their agribusinesses to form Syngenta, Hawkins became a key member of the new company's management team. During the next 10 years, he held leadership positions in several core areas, including sales, marketing and product development. His strong work ethic, problem-solving skills and fairness to colleagues and customers alike—skills he first learned as a young farmhand—eventually earned him his current position as president of Syngenta Crop Protection and region director of North America in 2010.
Reflecting on the company's journey so far, Hawkins says it's the people who have made the greatest impact on Syngenta. "I think our most important achievement to date is the long-standing customer partnerships that we've earned, sustained and continued to build on," he says. "Beyond our great portfolio, we have the people and relationships—with resellers, growers, suppliers, regulators and legislators—that are helping us bring the most value to the industry we serve."
Looking Ahead
Despite today's challenging market environment, Hawkins is excited about the future of Syngenta and American agriculture in general. "We launched three new active ingredients in 2015," he says. "By 2020, we expect to launch five more. Any time you have a market-leading portfolio grounded in strong partnerships, the result is increased opportunity—for the industry, the channel and, ultimately, the grower."
Hawkins is also a strong advocate for agriculture's next generation of leaders. By supporting students in FFA and 4-H, he gives back to those groups that helped ignite his passion for the industry. "Over the next few decades, we will need leaders with a high level of knowledge and expertise to help us navigate the changing demands in agriculture," he says. "That's what these groups are all about."
While market conditions, pest spectrums and his roles at Syngenta have changed over the years, Hawkins' love of agriculture has remained constant. "I begin most days trying to figure out how to help farmers improve productivity," he says. "It's a privilege being part of an industry that helps feed the world."