Harvest Chasers Are Back
The Syngenta Harvest Chasers team seeks outstanding yields in corn and soybeans.
Fall isn't just about cooler temperatures, falling leaves and football. It's also the busiest time of year for the nation's corn and soybean growers — harvest. For the second year in a row, the
Syngenta
Harvest Chasers will hit the road to report on top crop performances and yield results for
Golden Harvest® Corn
,
NK® Corn
,
NK® Soybeans
and
Enogen® Corn
.
Starting in early October, Harvest Chasers teams began traveling across the Midwest and South, reporting on high-performing hybrids and varieties. On the Syngenta
Know More, Grow More blog
, ag professionals can find in-field reports, exclusive grower interviews and unique field snapshots. The blog will also highlight how traits and technologies, such as
Agrisure® Artesian
,
Agrisure Duracade®
and
Agrisure Viptera®
, helped Syngenta hybrids outperform the competition in 2015.
Syngenta understands that growers are always on the lookout for new agronomic tips, as well as hybrids and varieties that will help them grow more corn and soybeans. By visiting the blog's Harvest Chasers page, growers can review up-to-date regional information using the interactive map and read about hybrids and varieties that could work well in their fields for the 2016 season.
For more information, follow the team's efforts on
Facebook
and
Twitter
. If your fields are producing great yields or you want to share some valuable agronomic insights from the season, email
SSFTF@gscommunications.com
or use the official campaign hashtag on social media — #HarvestChasers.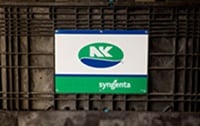 READ NEXT
New 2016 NK Soybeans
Syngenta introduces 22 new performance-class NK Soybean varieties with strong yield potential for the 2016 planting season.