Transportation Reform Is Mission Critical
Moving products to and from farms is essential to the ag industry, which is why current regulations need clarification and flexibility.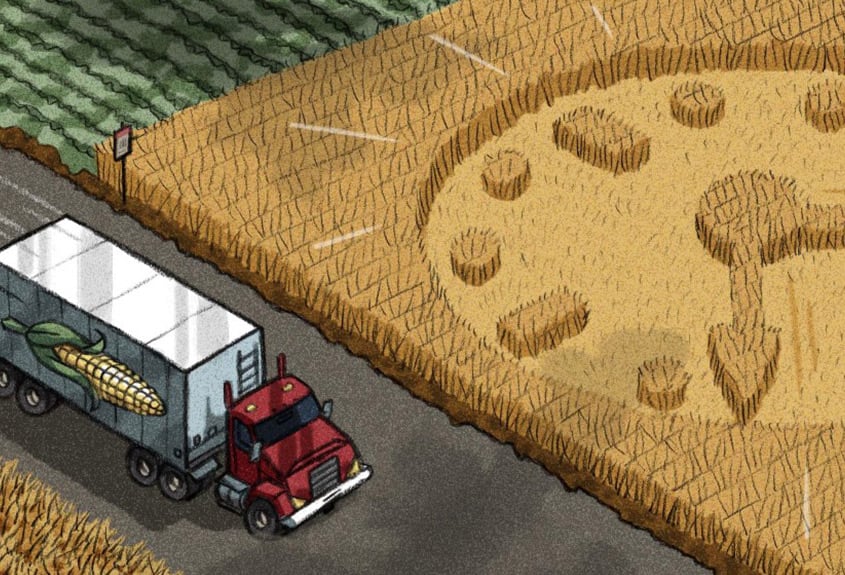 The ag industry, which includes farms of every size across every state, represents about $80 billion of the U.S. gross domestic product. One thing all have in common: They must bring supplies in and ship their products out, making them dependent on transportation. Therefore, good transportation policies are critical to ag.
Transportation reform is critical to the #ag industry, says @SyngentaUS.
click to tweet

"Given the inherent geographic limitations many of our farmers face in getting goods to market, it's important that federal regulations provide the flexibility needed for the safe, humane and market-efficient transportation of agricultural commodities," says Sen. John Hoeven (R-N.D.).
Toward that goal, the now-defunct Interstate Commerce Commission introduced Hours of Service (HOS) regulations in the 1930s for truckers, limiting the amount of time property- and passenger-carrying drivers can be behind the wheel. The regulations have changed over the years, always around the common themes of safety and driver fatigue, says Levi Wright, North American logistics operations manager at
Syngenta
. But regulations are causing perplexity across ag because of the way they are currently written. What is clear is that there needs to be easily understood standards that protect truck drivers and the people who share the road with them. Driver fatigue is one of the primary causes of fatal accidents on the road.
"Given the inherent geographic limitations many of our farmers face in getting goods to market, it's important that federal regulations provide the flexibility needed for the safe, humane and market-efficient transportation of agricultural commodities."
Challenges and Uncertainty
Producers are objecting to a lack of flexibility and an abundance of exceptions around what's being hauled and where. Hauling ag products is not like hauling other materials.
That's what Hoeven often hears from his constituents. "In recent years, many of our producers have raised concerns that the HOS regulations are just not working for them — particularly for those transporting cattle, pork and honey bees," he says. "Drivers transporting these animals and insects often have long distances to travel from North Dakota to processing facilities as far away as Texas and California. These drivers cannot just pull over to a truck stop — doing so could endanger the lives of the animals."
Ag haulers need to be able to react to the situation on the road, says Joe Wynne, vice president of operations at
Wynne Transport
. "One of the big hurdles is that once movements start for the day, you're on a ticking clock, whether you run into rush-hour traffic or there's an accident that holds you up on the highway," he says. "A driver should be allowed to foresee he's going to be in the city at rush hour and take a break, let rush hour happen and then truck through after, but not lose that time. That's important because how safe are you when you feel like a clock's chasing you all the time?"
The 150-air-mile rule also creates some confusion: When drivers pick up the commodity and drive within 150 miles, they're exempted from a lot of the rules. "But it gets tricky because the exception is tied to commodities, whether you're hauling trees versus taking fertilizer out to the field," Wynne says. "The guidance is not very clear: Does the exception originate from where I pick up the product, or does the exception originate from where the product originated? And if I'm coming back empty, do I still get to operate under that 150-air-mile radius? The regulations make exemptions for different items, but there's no written rule to say they'll back us if something happens when they waive those rules."
Today, even more issues are arising around the recent electronic logging device (ELD) mandate. It requires an ELD for operating a commercial motor vehicle to document the distances and time that a driver is operating. This replaces the older paper graph log system and is much more accurate and transparent. However, as companies install the devices to satisfy the mandate, some drivers have reported technical issues, such as inaccurate mileage or location reporting and failed data transfer.
Fortunately, for smaller companies, needed exemptions may be coming. "Regulators are giving a second hearing to a petition that would exempt trucking operations with fewer than 50 employees or less than 20 trucks from the rule," Wright says. "This would create two classes of truck drivers, with most being allowed to use paper logs rather than ELD."
Improvements Needed
Clarity and flexibility in the rules are what's needed, Wynne says, and the ag industry should make its voice heard about that. "The current administration has opened up a dialogue with the major trucking associations and had some open forums, and there seems to be more discussion around flexibility in hours of service," he says.
Hoeven is working on introducing some of those changes. "I worked with Secretary of Transportation [Elaine] Chao and the Federal Motor Carrier Safety Administration at the Department of Transportation (DOT) to provide additional flexibility under the 150-air-mile agricultural exemption to the HOS regulations," Hoeven says. "In addition, the department recently issued a proposed rule that would create much needed flexibility for carriers of all goods."
Hoeven hopes even more can be done, specifically for ag haulers. "I have introduced bipartisan legislation with Sen. Michael Bennet (D-Colo.) — the Modernizing Agricultural Transportation Act (S. 600), which would establish a working group at the DOT, comprised of representatives from the transportation and agriculture industries, transportation safety representatives and the U.S. Department of Agriculture, to develop guidelines on reforming the ELD and HOS rules."
Within 120 days of receiving the working group's report, Chao will have to propose regulatory changes to the HOS and ELD regulations, he says. The legislation would also delay enforcement of the ELD rule, until she formally proposes the required reforms.
As the discussion continues, producers can make their own voices heard by participating with their local associations. Syngenta reps are also informed sources for recommendations and advice, Wright says. "We have experts here," he says. "You should feel confident reaching out to your Syngenta rep if you have any questions."