The Future of Corn Is Data-Driven
Syngenta has enhanced its approach to delivering advancements in corn genetics and traits in the face of farmers' evolving needs.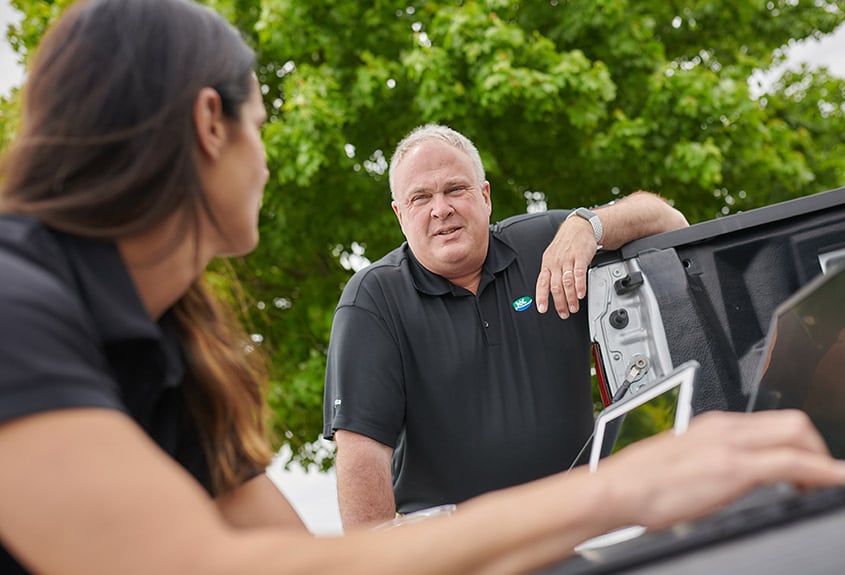 Whether it's due to unpredictable weather or new crop pests and diseases, farming is an evolving process rife with challenges. Giving growers the tools they need to overcome these challenges requires large investments of time and resources. But all the investments and scientific expertise in the world mean little without solid results from the field.
Learn how @SyngentaUS has enhanced its approach to delivering advancements in #corn genetics and traits in the face of farmers' evolving needs.
click to tweet

From the Lab to the Bushel
For many growers, the genetic enhancements from
Syngenta
are paying off. By planting
NK® corn
hybrid NK0624, Louks Farms in Blooming Prairie, Minnesota, persevered despite an extremely difficult 2019 growing season that saw double the annual rainfall.
According to Jason Louks, co-owner of the operation, he produced 250 bushels of corn per acre for the season — 28% above the county average of 180 bushels per acre. Louks cites NK0624's stalk strength and standability as one of the reasons for the farm's success in a difficult year.
We're not just developing hybrids, varieties or traits for the sake of building a portfolio — we direct our research to solve the problems that keep farmers up at night.
"It ended up being a late season for us, with rain, snow and high winds," he says. "By the end, every stalk was still standing. With some other varieties, we saw as much as 50% green snap when winds would hit, but the NK corn kept standing."
A Genetic Growth Spurt
Elite corn hybrids with the latest trait packages can make or break the season for growers like Louks. A $30 million investment at the Syngenta research and development (R&D) and seed production site in Nampa, Idaho, helps to deliver more elite hybrids with the right traits to farms faster. The
Trait Conversion Accelerator
features state-of-the-art greenhouses and laboratories and accommodates a majority of the Syngenta North American corn trait conversion work, which was previously done in open field or semi-controlled environments.
The new facility provides a reliable, controlled growing environment for incorporating desired genes from Syngenta trait donor sources into elite cultivars or breeding lines — a process known as marker-assisted backcrossing. As a result, Syngenta will be able to introduce market-leading traits into the company's most advanced corn germplasm faster and more efficiently.
Addressing local challenges with more targeted solutions is another priority for Syngenta. "We've been able to address yield consistency and standability because of the investments we made in our seeds business," says Drew Showalter, strategic marketing manager for corn at Syngenta Seeds. "We've increased our trialing by more than 30%, which has helped us better understand how our pipeline performs in more environments and soil types. A greater understanding of how our pipeline performs in local environments means we can place products on farms with a higher level of confidence because we've tested them in R&D trials under a wide variety of environments."
The Syngenta product launch process is more focused on local needs than ever before. "We started back in August with a collaborative approach that included our sales, agronomy and R&D organizations to build out what we call target product profiles, or TPPs," Showalter says. "These profiles determined what we should advance in November and brought us a class of products that we have utmost confidence will deliver the results our customers need."
By testing products in more environments and implementing enhanced data collection, Syngenta can bring to market thoroughly tested, specialized hybrids targeted to meet the agronomic needs of specific local geographies.
The Reality of Retail
Retailers, who work one-on-one with growers in their local communities, are in a prime position to report on which seeds perform best.
Co-Alliance
— a farmer-owned cooperative that provides solutions to farmer-members across Indiana, Ohio and Michigan — recognizes the innovation that can help set up growers for success.
"NK seeds stand out to me because they align with a very high-performing chemistry portfolio," says Amy Kinsler, vice president of sales and marketing for the Indianapolis-based company. "I don't see the challenges of weeds, insects or diseases lessening over time. We've got a lot of R&D investment from Syngenta that's driving this engine to help growers, and I think that's really important moving forward."
And so does Syngenta, as evidenced by its $1.3 billion annual investment in R&D. It also tests more than 1 million corn genotypes — simply defined as a cell's genetic makeup that determines one of its characteristics — every year with an end goal of giving growers the best local solutions for any condition.
Trait Expectations
Traits also play a large role in how well a corn hybrid performs. To bring a new biotech seed trait to the marketplace currently takes 10 to 12 years of research, development and regulatory approvals and a financial investment of $120 million to $150 million.
For Syngenta, its
Agrisure
®
corn traits portfolio — offering best-in-class insect control, water optimization and herbicide tolerance to protect genetic yield potential — is a sound investment. The portfolio currently includes the following technologies:
Agrisure Duracade® controls up to 16 key above- and below-ground insect pests, including corn rootworm.
Agrisure Viptera® offers industry-leading control of ear-, stalk- and leaf-feeding insects.
Agrisure Artesian® provides market-leading, season-long drought protection.
"We develop products with growers' production problems first and foremost in mind," says
Tim O'Brien
, Ph.D., Agrisure traits manager at Syngenta. "We're not just developing hybrids, varieties or traits for the sake of building a portfolio — we direct our research to solve the problems that keep farmers up at night."