Tavium Plus VaporGrip Technology Application & Stewardship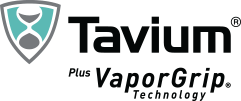 Tavium Plus VaporGrip Technology Application and Stewardship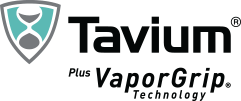 ATTENTION: YOU MUST HAVE ALL LABELING APPLICABLE TO YOUR LOCATION IN YOUR POSSESSION FOR A21472 PLUS VAPORGRIP TECHNOLOGY (ABN TAVIUM WITH VAPORGRIP TECHNOLOGY TO BE LAWFULLY APPLIED AFTER 03/15/2022
EPA has approved amended labeling for this product which must be followed.
Syngenta has provided ammended labeling for this product and users are under legal obligation to follow amended labeling.
It is a violation of FIFRA Section 12 to use a registered pesticide in a manner inconsistent with its labeling.
Tavium® Plus VaporGrip® Technology herbicide provides contact and residual control of key broadleaf and grass weeds in dicamba-tolerant soybeans and cotton. Tavium is a crucial component of a full-season weed management program for hard-to-control resistant weeds.
This page provides an overview of the application information you need before using Tavium. Dicamba- or auxin-specific training is required before applying Tavium; please check with your state about training and application requirements before use.
View the information on application requirements.
---

Application Rate & Timing
Apply Tavium at 3.53 pt/A with each application. For best performance, treat weeds early when they are less than 4" tall.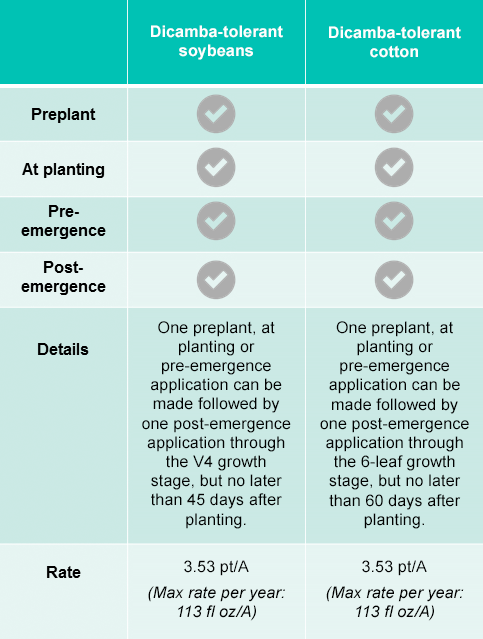 Weather
Know weather conditions such as wind speed, potential for temperature inversion, impending rainfall, etc. Tavium may only be applied when winds are between 3 – 10 mph and when rainfall that could exceed soil field capacity and result in soil runoff is NOT expected in the next 48 hours.

Avoid Temperature Inversions
Do not apply until at least one hour after sunrise and no later than two hours before sunset.

Buffer Zone Requirement
Ensure there is a 240' downwind in-field buffer. Prior to making an application of this product on dicamba-tolerant cotton or dicamba-tolerant soybeans, an applicator must visit http://www.epa.gov/espp/ to determine if there are any additional restrictions on Tavium Plus VaporGrip Technology use within the area to be sprayed.

Sensitive Areas
Apply only when the potential for drift to adjacent sensitive areas (e.g., residential areas, bodies of water, known habitat for threatened or endangered species, nontarget crops) is minimal (i.e., when wind is blowing away from the sensitive areas).

Sprayer System Cleanout
Follow label-prescribed sprayer cleanout procedures to prevent contamination in sprayer loads following Tavium application.

Droplet Size
Tavium must be applied with approved nozzles that produce extremely-coarse to ultra-coarse droplet size.

Spray Boom Height
Do not exceed a boom height of 24" above target pest or crop canopy.

Ground Speed
Sprayer speed must not exceed 15 mph.
For the necessary application requirements before you apply Tavium, please visit our Dicamba Training module.
Tavium herbicide provides two effective sites of action (SOAs) to manage key ALS-, PPO- and glyphosate-resistant weeds. A convenient premix, it provides residual and contact weed control, and built-in resistance management. Tavium fits easily in various tillage systems and geographies, and has application flexibility from preplant through early post-emergence.
Only use nozzles designed to produce extremely-coarse to ultra-coarse droplets. Avoid using screens and strainers finer than 50-mesh.
Approved Nozzles
---
Record Keeping Form
Accurate record keeping is required for the application of Tavium herbicide. Please follow all state guidelines regarding application records. Download and print record keeping form here.
File size 131KB PDF
Download Record Keeping Form
All photos are either the property of Syngenta or are used with permission.
© Syngenta. Important: Always read and follow label instructions. Some products may not be registered for sale or use in all states or counties. Please check with your local extension service to ensure registration status. Tavium Plus VaporGrip Technology is a Restricted Use Pesticide. For use by certified applicators only. Tavium® and the Syngenta logo are registered trademarks of a Syngenta Group Company. VaporGrip® is a registered trademark of, and used under license from, Monsanto Technology, LLC. All other trademarks are the property of their respective owners.