Husker Harvest Days 2021
September 14 - 16, 2021
We are committed to helping you protect and enhance your operation through our leading seed and crop protection innovations. Visit us in Grand Island to talk with local agronomists and product experts, and make sure to check out our featured videos below from field professionals.
Prepare for the 2022 growing
season with Syngenta
Husker Harvest Days 2021 Day Three
Visit Syngenta at
Husker Harvest Days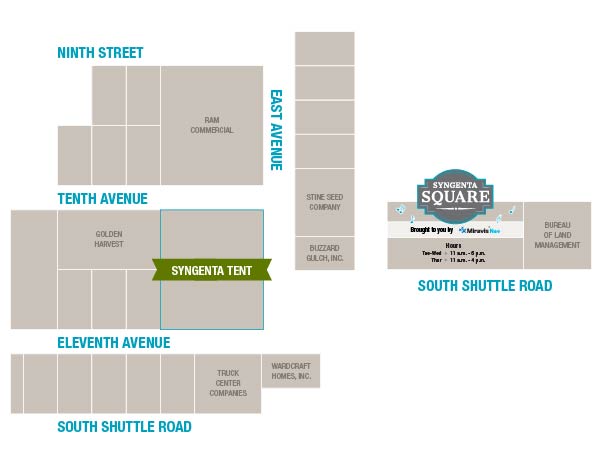 Check Out the Latest From Syngenta in Lot #1106
We're excited to be back in person this year at Husker Harvest Days. The exhibit will feature exciting and educational demos highlighting the Syngenta portfolio. Adams on Ag will live broadcast from the Syngenta exhibit each day of the show. Join us to learn about our products and innovation and earn a drink ticket* to be redeemed in the Syngenta Square.
*This offer is available only to those 21 years of age or older. Limit on drink ticket per customer.
Stop By the Syngenta Square in Lot #47E
Bring your friends and family to the Syngenta Square for a cold drink and live music.
Get access to our library of product information, comparison data and brand videos by completing this simple form.
Acuron® 5-15 Brochure
Acuron GT Sell Sheet
AgriClime™ Brochure
AgriEdge® Brand Booklet
AgriEdge Sell Sheet
AgriSure Artesian® Overview Sheet
AgriSure Traits Above- and Below Ground Insect Control Sheet
AgriSure Traits Above Ground Insect Control Sheet
Biodiversity Infographic
Boundary® 6.5 EC Sell Sheet
BroadAxe® XC Sell Sheet
FarmShots™ Syngenta Imagery Sheet
Growing Matters Neonic Collateral
Hive to Harvest Pollinator Infographic
Insect Pollinators and Pesticide Product Stewardship
Miravis® Ace Sell Sheet
Miravis Neo Corn Sell Sheet
Miravis Neo Soybean Sell Sheet
Prefix® Sell Sheet
Saltro Sell Sheet
Tavium® Plus VaporGrip® Technology Soybean Sell Sheet
The Making of Insect Farmers
The Stewardship Cycle
Trivapro® Corn Sell Sheet
Vayantis® Brochure
Husker Harvest Days 2021 Video Series
Additional Resources
Below are more resources that can help with your crop management
Syngenta hereby disclaims any liability for Third Party websites referenced herein.
© Syngenta. Important: Always read and follow label instructions. Some products may not be registered for sale or use in all states or counties. Please check with your local extension service to ensure registration status. Acuron and Tavium Plus VaporGrip Technology are Restricted Use Pesticides. Acuron®, AgriClime™, AgriEdge®, Agrisure Artesian®, Agrisure®, Boundary®, FarmShots™, Miravis®, Prefix®, Tavium®, Trivapro®, Vayantis® and the Syngenta Logo are trademarks of a Syngenta Group Company. VaporGrip® is a trademark of Bayer Group, used under license. BroadAxe® is a trademark of FMC